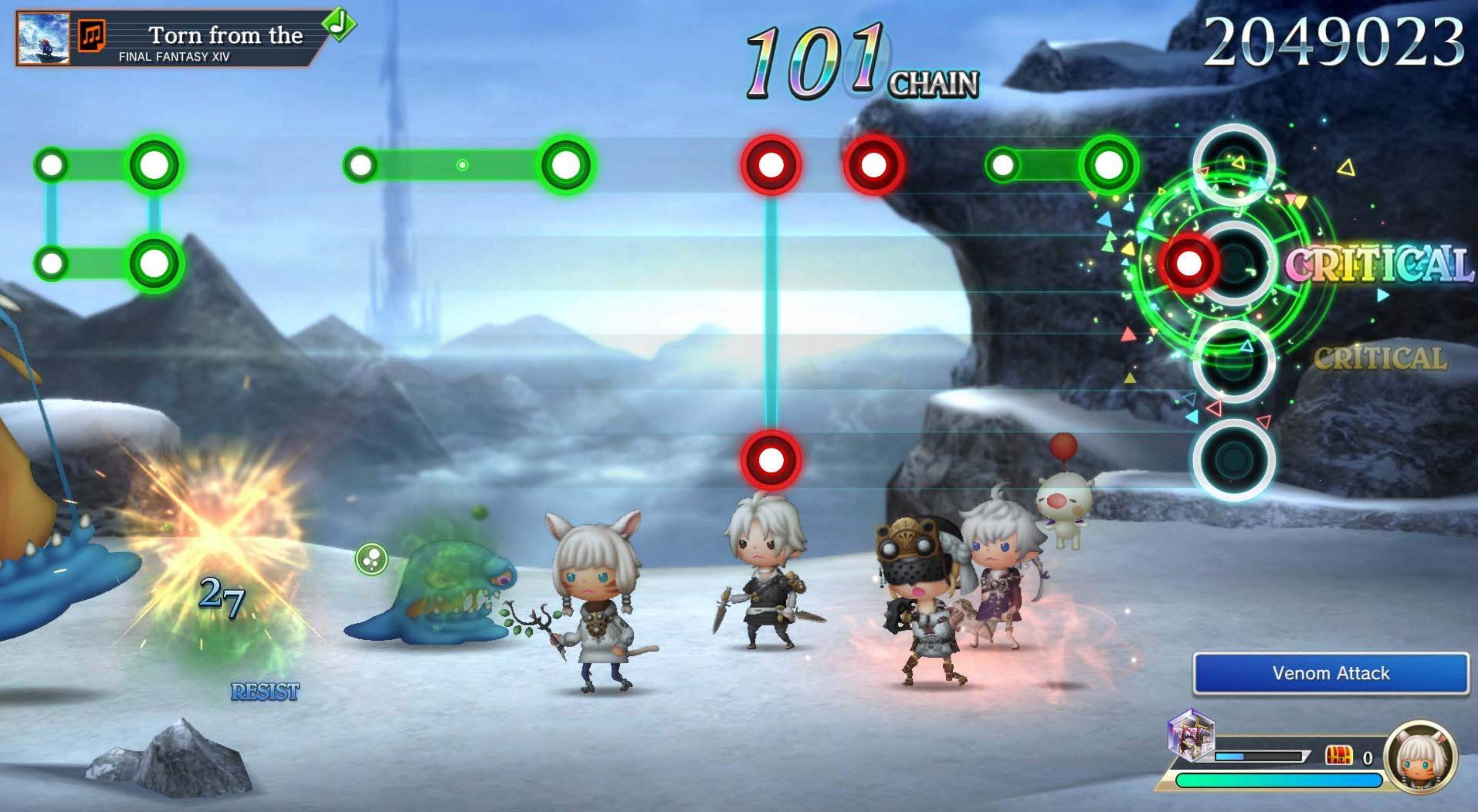 Square Enix ha anunciado una demostración gratuita de Theatrhythm Final Bar Line.
Esta saga de juegos de ritmo desarrollada por indieszero (Electroplankton, Kingdom Hearts: Melody of Memory) y publicada por Square Enix inició su andadura en Nintendo 3DS en 2012.
La próxima entrega incluirá 385 canciones de diferentes juegos de la franquicia Final Fantasy, además de 90 canciones como DLC con canciones de otros títulos de Square Enix como Nier, Live-a-Live o The World Ends With You.
La demo incluirá 30 temas tomados de Final Fantasy II, V, VII, XIII, XIV y XV, mostrando los tres tipos de nivel de juego: BMS (Battle Music Stage), FMS (Field Music Stage) y EMS (Event Music Stage) .
En los niveles de BMS tenemos que luchar contra enemigos, en el FMS recorremos entornos con la música más relajante de fondo y en el EMS jugamos frente a los escenarios que proporcionan los temas.
El progreso de la demo se transfiere al juego final. Estará disponible a partir de la 01:00 am del 1 de febrero en horario de Europa Central.
Theatrhythm Final Bar Line se lanzará en PlayStation 4 y Switch el 16 de febrero.
Tras el tráiler dejamos la lista de temas incluidos en la demo.
Pistas incluidas en la demostración de Theatrhythm Final Bar Line:
FANTASÍA FINAL II
El Ejército Rebelde (BMS)
Batalla 1 (BMS)
Ciudad (FMS)
Tema principal (FMS)
FANTASÍA FINAL V
Tema principal de Final Fantasy V (BMS)
Cuatro Corazones (FMS)
Batalla 1 (BMS)
Batalla 2 (BMS)
Chocobo Mambo (FMS)
Cosecha (FMS)
FANTASÍA FINAL VII
Apertura – Misión de bombardeo (BMS)
¡Que comiencen las batallas! (BMS)
¡Lucha! (BMS)
La persecución (FMS)
Tema principal de Final Fantasy VII (FMS)
FANTASÍA FINAL XIII
Desafiadores del destino (BMS)
Filo del sable (BMS)
Cegado por la luz (BMS)
Marcha de los Dreadnoughts (FMS)
Lucha desesperada (BMS)
FANTASÍA FINAL XIV
Difícil de perder (BMS)
Sobre vientos del oeste (FMS)
La Tierra Respira (BMS)
Serenidad (FMS)
Arrancado de los cielos (BMS)
Al Sol (FMS)
Némesis (BMS)
FANTASÍA FINAL XV
Defiende tu posición (BMS)
¡La lucha está en marcha! (BMS)
APOCALYPSIS NOCTIS (Tráiler descubierto) (BMS)